Be smart, Offer aGame !
Philibert offers you the opportunity to purchase gift cards to use on our online store. Very convenient, gift cards can be used to please a loved one or a friend to whom you do not know what to offer.

Gift cards can be purchased on the website as an article. The possible values are € 20, € 30 et € 50.
Upon receipt of your order, a code will be sent to you. This code, to be used for a future order, will give you a discount on the amount of the gift card.
Use this code on the summary page of your order, just before validation.
You can also send this code to the person of your choice, who can then use it when ordering.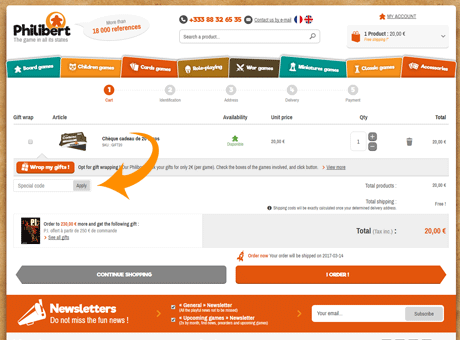 Secure payments

A team of game enthusiasts

at your service since 1978

Shipping from 1.95€*

Offered from 60€

Your order
shipped within 24h*
*See our Shipping Conditions
Copyright © 2022 www.philibertnet.com Legals - Privacy Policy - Cookie Policy - Sitemap
Creation